Hii Everyone, Hoping you must be perfectly all good. Today's topic is Patanjali Dant Kanti fresh active gel best review.  Patanjali is one of the largest fastest growing FMCG company on India founded by Baba Ramdev popularly known as Youg Guru and the Honorable Acharya Balkrishna.
Patanjali Dant Kanti Fresh Active gel best review
Though there is 8 type of toothpaste available under Patanjali brand the Patanjali Dant Kanti active fresh gel is the 9th member of the family newly added.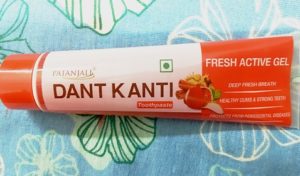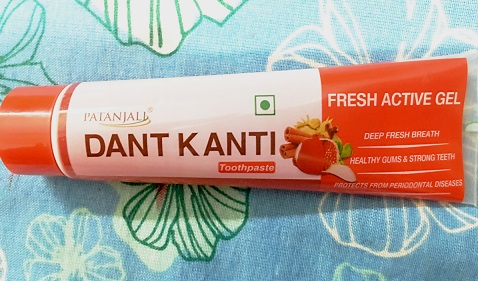 As like all toothpaste it claims to cleanse deeply your teeth and gums and protects effectively for a longer period of time form germs and bad odor caused by bacteria inside your mouth and provides a deep fresh breath and pleasant cooling effect. I must tell you from my experience after using that it provides instant freshness and remove all bad odor.
Swami Ramdev (@yogrishiramdev) · Twitter
As it's Red in color I initially feel that it will be warm inside my mouth but it's not like that.
Patanjali Dant Kanti active fresh gel is an Ayurvedic proprietary Medicine and having the natural ingredient like
Punical granatum Fr. Rind, (Annar ka Chilka)
Glycyrhiza glabra Rt.(Mulethi)
Syzygium aromaticum Fl.B( Long ta tell)
Eucalyptus glabulus Lf.(Niligri ta tell)
Amomum Subulatum Fr.(badi elaechi ka tel)
Zingiber Offcinale Rz(adarak ta tell)
Piper nigrum Fr.(kali mirch ka tell)
Foanicum Vulgaure Fr.(souphn ka tell)
Cinnamomum Zeylanicum(dalchini ta tell)
As you know it can be used as a toothpaste but it also extremely benefits in gingival bleeding and periodontal diseases. Children under 6 years must use this under medical supervision so that the teeth of small children will remain safe.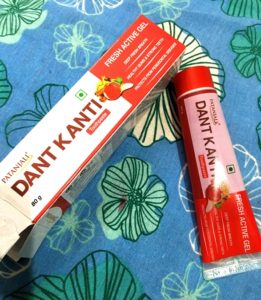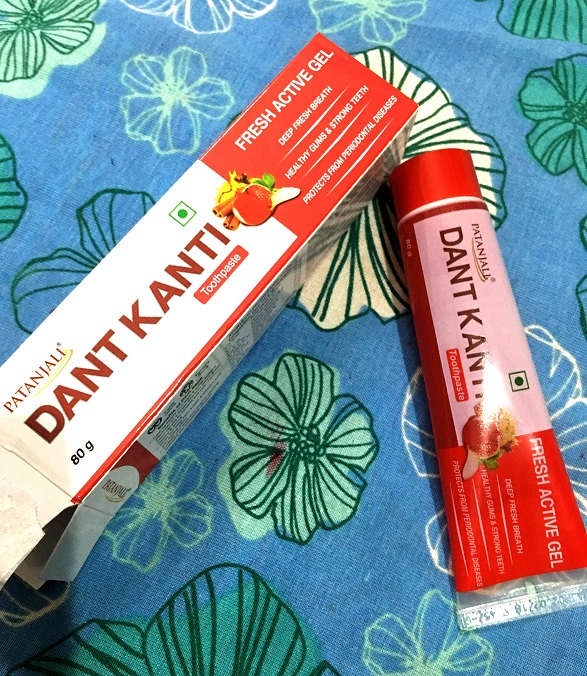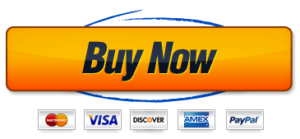 Packaging
It comes with a very attractive Red and White combination. The tube inside also comes with a Red and White combination but it's a transparent tube. You can easily view the content inside the tube. You can see the green veg mark in the front that means it's completely vegetarian.
It comes with 80 g packaging which is very nice to carry.
The hologram of originality is also printed on the front cover. I suggest you , check the small mark before purchasing.
It comes with a Hindi mark and label.
Price: Its comes with a very competitive price of  Rs45/-
The direction of use or how to use?
You can bush thoroughly your teeth and mouth after taking the meal. But I suggest using at least use two times a day. If you have any dental problem you must take the advice of your doctor before using it.
Swallowing is strictly avoidable.
It must not be used any injury part of the body
The fragrance of Patanjali Dant Kanti active fresh gel toothpaste
Well, if you have previously used Dant Kanti Advanced Toothpaste you could feel the similar smell or similar like Dabur red toothpaste with gell effect.
Pros
Patanjali Dant Kanti Fresh Active Gel toothpaste is wonderful natural toothpaste that helps to keep your teeth healthy.
remove all bad odor.
provides instant freshness
contains no harmful chemical component
The benefit in gingival bleeding
The benefit of periodontal diseases
Cons
It may  not help to make your teeth white
No other variants and weight are available.
Our ratings 4 out of 5
Do we recommend?
Yes you must try this toothpaste if you like gel or else you can other toothpaste of Patanjali
Buy the other Patanjali products here
So I hope you have liked today's topic Patanjali Dant Kanti Fresh Active gel best review. Comment your view below and share your experiences after using this. Here I want to tell you that this article is not sponsored. Please comment on your experiences so that it will be beneficial for others.