Hello, everyone. Today's topic is all about the Patanjali body lotion price, ingredients and review. Recently I purchased it form my nearby Bigbaazar and wants to share my experience so far after using almost 30 days. So let's start then.
Patanjali body lotion price, ingredients and review
Patanjali products are known for its nonchemical ingredients and made with all natural ingredients. This body lotion is completely natural and you will forget all other body lotions after using this. Why I am saying so? You will get to know very soon. Please continue reading this article.
Product description
Patanjali Body Lotion is Ayurvedic Propriety Medicine that helps rejuvenate skin glow and contains extracts of turmeric, aloe vera, cucumber and saffron that will keep your skin smooth and soft. This a perfect solution for all dry and rough skin. This does not make your skin greasy and oily after using this.
Patanjali body lotion ingredients
Symploucs racemosa(Lodhra ext.), Rubia cordifolia(Manjisth ext.), Curcuma longa(Turmeric ext.), Alovera, Cucumis sativus( Cucumber ext.), Triticum sativum(Whear Oil), Crocus sativus(Saffron), Base material:Aqua, Sugandhit darvy Q.S
How to use?
Apply twice a day after washing and pat drying the area. Use this product before 24months from the date of manufacturing. This must be kept in dry and cool place.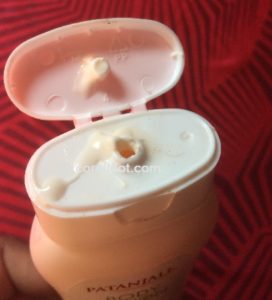 Packaging
As usual the Patanjali products it comes with a very simple and creamy white color bottle with a flip cover. On the front side, you can see the Logo of Patanjali and the picture of Alovera and cucumber with keshar. You can also see the "Body lotion" in Hindi on the front side.
It's a not transparent bottle so you can't check the left portion inside the bottle.
I got the 100ml bottle which is very easy to carry during the traveling also.
The overall packaging is not that attractive but nice having a nice look and keep reminds you that it sa natural product form the Patanjali.
Patanjali body lotion price
it's Rs.60 for 100 ml.
Pros of Patanjali Body lotion
·

It's made from all natural ingredients
·

Not having any chemicals
·

Easily available on all Patanjali stores, supermarkets and nearby general stores.
Also, read Patanjali Dant Kanti fresh active gel best review.
Cons of
Patanjali Body lotion
·

Does not contain any SPF
·

Not much helpful for extremely dry skin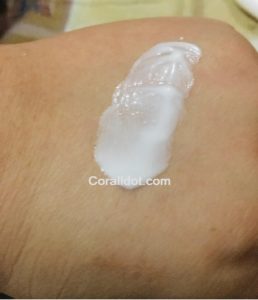 My experience
Though I am not that much fan of all Patanjali products but this body lotion impressed me a lot. This is because due it's all natural ingredients. After using, I am not nither feeling very oily nor too much dried. It 's nice and perfect balance body lotion with perfect moisturize my skin.
This comes with a nice tagline" Rejuvenates skin and increases skin Glow".
Due to the Alovera and Turmeric, it must help your skin glowing and due to the presence of Cucumis sativus, it will Rejuvenate your skin.
Will I repurchase this?
Yes, I love the composition because it has no harmful contains and it is a perfect product under good price.
Read more: Patanjali Body Lotion is Ayurvedic Propriety Medicine…
Coralldot rating: 3.5 out of 5
Is Patanjali body lotion for winter?
Yes, you can use it in winter.
Final words
Patanjali I know for its all-natural range of products and this body lotion is a perfect example. The fragrance is nice but some of my family members don't like the smell.
So I suggest that the Patanjali must work on the fragrance of this body lotion and make it little light.
This is all about today's topic on Patanjali body lotion price, ingredients and review. I hope you liked this article.
So please share this article with your friends. If you are using this body lotion then please share your experience in the comment section below. So keep supporting us and subscribe with us for all future topics.