Hi everyone. I hope you have been perfectly fine. Today I am going to review one face wash form Boutique. So I hope you will like this. So let's start our topic Biotique Bio papaya visibly ageless scrub wash review.
Biotique Bio papaya visibly ageless scrub wash review
I was searching for some good products for my Oily skin and I have been trying different face wash and scrub to experience and experiment it. So I bought Biotique scrub wash form the nearby supermarket. Recently I have written an article on Swiss Tempelle pollution defence face wash review. So you can read this.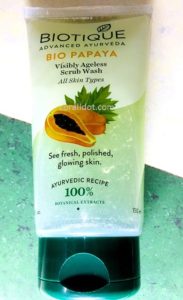 About the Biotique Bio papaya visibly ageless scrub wash.
Papaya visibly ageless scrub wash purifies, refines and illuminates skin. Eliminates flakes and Cleans pores. Dissolves makeup and oil. Smoothes the way to a fresh, polished glowing complexion. This is not a cosmetic product. It has therapeutic properties.
Key Ingredients:
Bio Papaya Contains: Papita juice- 3.0% (papaya), Akhrot Shell powder-3.0% (walnut), Neem Bark- 5.0%, Banhaldi Tuber-2.0% , Ritha Fruit-8.0%, Kikar Gond-2.0%, Moongphali Tail-1.5%, Purified water Q.S.
How to use Biotique papaya scrub wash?
It's an ayurvedic medicine for external use only. Massage on wet face and neck with fingertips. Avoid eye area, Remove with water or damp washcloth, for best result you can use it twice a day, morning and evening. If you have any kind of allergy with papaya then you must take advice from your doctor before using this.
Packaging:
Biotique Bio papaya visibly ageless scrub wash come with a pleasant light green looking tube with a deep green flip cover. The tube is semi-transparent so you can see the amount left inside. The tube comes with a white and deep leaf green color with a lovely image of yellow papaya with the leaves are at the center of the tube. You can see the " AYURVEDIC RECIPE 100 %" BOTANICAL EXTRACTS level near to the flip cover and the BIOTIQUE Advanced Ayurveda logo on the tube.
I bought the 150 ml tube which is very easy to carry and it's not having an issue while traveling. The flip cover is hard to open which is good. All necessary information is written at the back side of the tube. The overall packaging is impressive and does look like an ayurvedic product. It's organically pure and preservative free product. No animal testing.
Also read: 39 Surprising Benefits Of Papaya For Skin, Hair & Health
Chandanalepa Gotukola Anti Dandruff Shampoo review
Fragrance:
You could definitely smell this which is quite refreshing.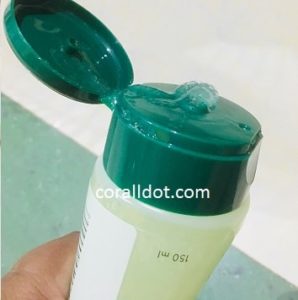 What do I feel about the Biotique scrub wash?
As the daily pollution goes on increasing every day so you need to take care of your skin as early as possible. So Scrub plays an important role while cleaning your face apart from any other face wash. Before telling you about my experience with this scrub let me highlight some of the important points of Papaya.
The Scientific Name of Papaya is Carica papaya and whose Origin is Central America and Southern Mexico. Some of the other names of papaya are, Fruit of the Angels (by Christopher Columbus), Papita (Hindi).
Also read:: 39 Surprising Benefits Of Papaya For Skin, Hair & Health
Benefits of the Papaya for Skin
Papaya has very good properties which can make your skin flawless, It also helps reduce pigmentation and controls acne breakouts and wrinkle formation. I have seen many people use Papaya mask. It has many advantages for our skin.
As this has Papita juice(papaya) and Akhrot Shell powder in it so the combination is good. The scrub is not so hard. I feel very gentle and smooth during scrubbing. A small quantity is required for your entire face and as the liquid quantity is more so you need to dilute with waters many times during the scrubbing on your face. It also has Banhaldi Tuber which is very good for the face. After using this clean your face with normal water. The lathers get removed easily from the face. Take one dry towel and clean your face. You will feel refreshing.
What did I like the most?
It's a Paraben free and no harmful chemicals in it.
Nice, soft and feel refreshing after using this.
Contains natural ingredients
Nice packaging and easy to carry.
Purifies Pores
Affordable
What I do not like about it.
Biotique products are not easily available in nearby stores.
Little more water to clean it
Do I recommend buying this?
Definitely yes if you are traveling a lot in the open air and a oily skin. I will not recommend it for the people who have dry skin.
Coralldot Rating: 4 out of 5
Conclusion
Have you enjoyed reading this article? Then do not forget to comment below. Have you used this product till now or not or do you recommend any other Scrub? Must let us know your thoughts. So I hope you have enjoyed today's topic Biotique Bio papaya visibly ageless scrub wash review. Keep following us and read our article regularly and visit our Blog www.coralldot.com regularly where we try to post articles related to Fashion, Beauty, Healthcare, Product reviews etc. regularly. Thank you for reading this article. See you on a different topic soon.