Hii every one. As you are a regular visitor for this blog you know that recently I was in Colombo for a vacation. So got a very popular shampoo form the nearby store and I want to share the review and my experience. So let's start today's topic Kumarika Shampoo reviews.
Kumarika shampoo reviews
Kumarika has the largest range of hair care products with natural ingredients in Sri Lanka. It has many products like Shampoo, Hair Olis, Conditioners and Hair Serum to cater to every aspect of the modern woman's hair need. Today I am going to review the Kumarika thick and strong shampoo which is commonly available. If you are a user of this shampoo and Kumarika products then read this article till the end.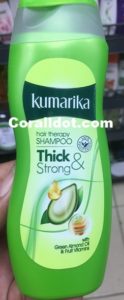 Product Description(කුමරිකා ෂැම්පු සමාලෝචනය)
100% natural extracts of Green Almond Oil with active fruit vitamins, nourishes your hair every time you shampoo. Gives you visibly fuller thicker and stronger hair. It has green almond Oil which is full of essentials minerals and nutrients. It also has Vitamin A, C & E.
Key Ingredients of Kumarika thick and strong shampoo.
Aqua, Sodium Laureth Sulfate, Cocamidopropyl Betaine, Dimethiconol and Tea Dodecylbenzenesulfonate. Glycerin, Glycol, Distearate, Amodimethicone and Cetrimonium Chloride and Trideceth-12, Parfum, Sodium Chloride,, Carbomer, Sodium Hydroxide, Propyl paraben , Prunus Dulcis(Green Almond) Oil, Citrus Aurantium Dulcis(Orange Oil), Ascorbic Acid etc.
Also read: Chandanalepa Gotukola Anti Dandruff Shampoo review
Direction to use
Take a little portion of the shampoo on your palm and apply into wet hair, massage scalp well with your fingers into a lather. Wait for two minutes and finally rinse off thoroughly with normal clean water. Avoid the eye area.
Packaging
The packaging is very simple. It comes with a green bottle with a large flip cap and has a picture of Green Almond on the front to demonstrate the ingredients which are green almond oil and fruit vitamins. The bottle is easy to carry and the flip cover is not easy to open very is very good during travel. Also, the bottle is quite sturdy and is in a shape which is very easy to hold. You can see the Kumarika logo on the top side of the bottle and " Natural Extracts 100%" label on the front side.
Also read: Dandex pro scalp anti dandruff shampoo review
The bottle is not transparent so you may not see the left portion inside the bottle. All necessary information is available at the back side of the bottle in both English and Local language. You can see the Barcode and Customer care details at the back side. This product is manufactured by Hemas Manufacturing Pvt. Ltd, placed in Colombo, Sri Lanka.
My Experience
Almond oil has many benefits to our hair. Though it's not clinically proven, Almond oil contains all kinds of healthy ingredients for hair like Omega-3 fatty acids, phospholipids, vitamin E, and magnesium. Using almond oil nourishes and strengthens your hair, and is optimal for treating hair loss and damaged hair. If you have a dry hair then it could be a good shampoo for you which will nourish your hair well. The smell is nice and very natural. My little worry is that it's not the paraben free product though it claims that it's a natural product.
Pros of Kumarika thick and strong shampoo
It Lathers well.
Clean refreshing scent.
Affordable and available everywhere
Contains the Green almond oil which is good for hair.
Cons of Kumarika thick and strong shampoo
Not a Paraben free product.
It does not come with a transparent bottle.
Do we recommend the product?
I will suggest you use if you are having hair fall problem then you should use this twice a week to regrow your hair and make your scalp health. I will not recommend all the people who have oily hair or having dandruff in hair.
Coralldot rating:3.5/5
Kumarika shampoo price
MRP: Rs. 145/- (in Sri Lankan Rupees) for 90ml
Will I repurchase this?
Ans: Yes
So I hope you have enjoyed by reading Kumarika shampoo reviews and especially the review of Kumarika thick and strong shampoo. If you are using this Kumarika shampoo then must comment below your experience. Please follow us on Instagram (@coralldot) and like our page on Facebook and Follow us on Twitter. Thank you for giving your valuable time to read this article. I am Supriya M, Founder and editor of Coralldot say you thank you once again. See you in a new article. Please follow our Blog www.coralldot.com regularly.