Hi everyone(สวัสดีทุกคน), I hope you have been perfectly good. Today I am going to review a face mask which is made with Cucumber. So let's start today's topic Boots cucumber 3 minute mask review
Boots cucumber 3 minute mask review.
Recently I have been to Bangkok and I bought this face mask form nearby 7Eleven store which is a very commonly available supermarket and present everywhere in Bangkok.
Product description
It contains extracts of Cucumber to help gently cleanse the skin. This mask is enriched with soothing cucumber and vitamins which will draw out excess oils and impurities from the pores form the face and leaving the skin cleansed and toned.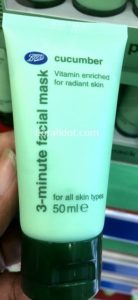 Boots essentials cucumber 3 minute facial mask ingredients
Though it has the basic ingredient which is Cucumber extracts, it has some of the following ingredients as well.
Aqua, Kaolin, Glycerin, Mineral oil, Titanium dioxide, Tribehein, FEG-100 stearate, Talc, Petrolatum, Cellulose Gum, Potacium sorbate, Sodium sulfite, Tocopherol, BHT etc.
Direction to use:
Apply to your face and must avoid the delicate area around eyes.
Leave it for 3 to 4 minutes and then wash your face with normal water.
Do not apply it to the irritated or broken skin.
Children should not use this.
Use this under the supervision of the doctor if you have any existing skin problem.
Also read: Boots Cucumber Clay Mask 50ml – Boots
Packaging
It comes with a very cute looking light green tube with a flip cap.
The tube is very easy to carry and it comes with a non-transparent tube so you can't easily see the left portion inside the tube.
You can easily see the logo of "Boot" in the blue background on the front side of the tube. "3-minutes facial mask" is written on the tube as a top to down.
At the back side of the tube, the instruction is written in both English and Thai language which is perfectly visible.
You could also see the barcode on the back side. I am reviewing the 50 ml tube which is very easy to carry.
My experience
Thought the product instructs it is for all skin types and removes excess oil from the skin and clean all pores.
I feel that it did not clean all pores completely especially if you are traveling in the polluted environment then it may not clean your skin completely.
I believe that it is working mildly as I feel my skin lots softer after using this. It smells good.
As you know Cucumber is used everywhere as a facial mask and known as to lighten skin and have soothing effects.
Cucumber is very beneficial for removing the tan and sunburn on your skin. I could not find the cucumber has not any specific side effects for the skin.
It also has Titanium dioxide which is not a cancer-causing substance unless exposure is beyond safe limits during manufacturing.
Potassium Sorbate which is used in this product is a mild preservative being used in cosmetic and skin care products as a paraben alternative to prevent or retard the growth of microorganisms and protect products from spoiling. You can also read Start taking care of your skin as early as you can Best ways
Pros of Boots cucumber 3 minute mask
Easily available
No such harmful ingredients
Easy to carry
Using cucumber extracts
Cons of Boots cucumber 3 minute mask
Nontransparent tube
Could not clean your skin thoroughly
Coralldot rating: 3 out of 5
Will I repurchase this?
Yes, I love the composition because it has no harmful contains.
Final words about Boots cucumber 3 minute mask review
In this article, I have discussed the Product description, direction to use, packaging, my experience, Pros & Cons and Coralldot ratings for Boots cucumber 3 minute mask.
So I hope you have liked today's topic Boots cucumber 3 minute mask review.
Please share your experience after using this product. Do you recommend any other face mask?
Please confirm the email subscription which is completely free so that we could send all the fashion, healthcare, product reviews etc. directly to your email. Keep reading our articles see you soon with another topic.