Hii Everyone ඔයාට කොහොම ද(oyāṭa kohoma da). I hope you have been perfectly fine. Today's article isChandanalepa Gotukola Anti Dandruff Shampoo review. If you searching best shampoo available in Sri Lanka then you must read this article till the end. So let's start today topic.
Chandanalepa Gotukola Anti Dandruff Shampoo review.
Chandanalepa is the Sri Lanka's pioneer and largest ayurvedic cosmetics manufacturer which has several cosmetics products and has won many awards.
Recently I got the Chandanalepa Gotukola Anti Dandruff Shampoo to form a supermarket in Colombo.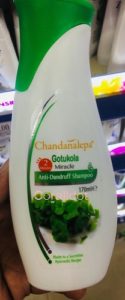 Product Description
This shampoo has been developed with Gotu Kola, renowned for its time-tested medicinal benefits, Chandanalepa Gotukola Anti-Dandruff Shampoo eliminates dandruff while reducing the dryness of your scalp giving you spotless, healthy and gorgeous hair.
The product shows a 2 minutes Gotukola miracle.
Key Ingredients of Chandanalepa Gotu Kola Anti Dandruff Shampoo
Natural Fountain water(aqua), Centelia asiatica extract, Sodium laureth sulphate, Cocoamidopropyl Betain, Glycerin, Polyquaternium 22,Dimethicone (and) Amodlmethicone (and)Laureth-23,Polyquaternium-10,Ethylene Glycol Distearate, Sodium Hydroxide, Butylcarbamate, Carbomer, Mica etc.
Direction to use
Take a little portion of the shampoo on your palm and apply into wet hair, massage scalp well with your fingers into a lather. Wait for two minutes and finally rinse off thoroughly with normal clean water. Avoid the eye area.
Packaging
This comes with a nice White and Green color combination and image of green leaves of Gotu Kola is on the front side of the bottle looks definitely very attractive and feel like a natural product.
The top cover comes with a nice flip flop cap which is very nice and does not let the shampoo come out of the bottle easily.
The shape of the bottle is very nice to hold on your palm and easy to open.
All necessary information is easily available on the back side of the bottle with English as well as in the local language of Sri Lanka.
It comes with a 170ml bottle which is very nice to carry on the bag if you're traveling.
My Experience with Chandanalepa Gotukola Anti Dandruff Shampoo.
As this is an Ayurvedic shampoo which contains Gotu Kola in it so it is little different from other ayurvedic shampoos that  I have used so far.
The herb Gotu Kula has many benefits on our body and skin used for thousands of years in Sri Lanka and other countries in many ways.
Gotu Kola is also largely used for the treatment of hair loss and any kind of hair problem. This herb helps for hair re-growth.
This strengthens the hair follicles and nourishes the scalp.
A little amount of shampoo is enough for your head and requires some extra water to clean the lather.  You could smell the herbs from the shampoo.
What I dislike?
Not only it has some good effects but also have some bad effects like Itching and Sensitivity to sunlight.
So I suggest you that you must not go to sunlight immediately after using this shampoo and cleanse thoroughly with normal water.
If you have any kind of skin problem or medical supervision then must consult your doctor before using this.
Pros of Chandanalepa Gotukola Anti Dandruff Shampoo.
Lathers well.
Clean refreshing scent.
Affordable and widely available.
Contains Gotu Kola
Cons of Chandanalepa Gotukola Anti-Dandruff Shampoo.
Used Butylcarbamate which is toxic
Not a Paraben free product
Do we recommend the product?
I will suggest you use if you are having the dandruff problem. This is not a product for your everyday use. You may use this one in a week.
Coralldot rating: 4/5
Chandanalepa Shampoo Price
MRP: Rs. 325/- (in Sri Lankan Rupees)
Will I repurchase this?
Ans: Yes
So this is all about today's topic Chandanalepa Gotukola Anti Dandruff Shampoo review.
I hope you have like the article and have a clear idea about the product. Comment below if you have liked this topic and share this on your facebook and twitter page.
This is Supriya M, Editor,  Coralldot says you thank you for reading this. See you soon with some other article. Bye, and Take care.