Hii Everyone. I hope you have been perfectly fine. Today's topic is Dandex pro scalp anti dandruff shampoo review. Many of us must have tried several shampoos to clean dandruff from our hair as an anti dandruff shampoo. So let's get started today topic.
Dandex pro scalp anti dandruff shampoo review.
So recently I have been in Colombo, Srilanka and I brought this Dandex pro scalp anti-dandruff shampoo form a nearby supermarket.
As you are a regular reader you must be knowing that trying new things is my passion and I love to do so.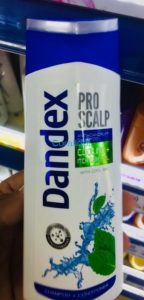 Product Description
The new Dandex ProScalp range of anti-dandruff shampoos have been specially developed to keep your scalp healthy, for healthy hair growth.
If we compare our hair and scalp to a plant and its soil Like a healthy tree needs good soil, healthy hair starts with a healthy scalp.
The Product has both Cooling and Itch control with cool mint.
It effectively fights Dandruff
Cool and refreshes scalp. Soothes itching and irritations
With conditioner for supple and smooth hair after a wash
This Dandex pro scalp anti dandruff shampoo is the product of Hemas Manufacturing Pvt. Ltd situated in Colombo Sri Lanka.
Also read: Start taking care of your skin as early as you can Best ways
Key Ingredients of Dandex pro scalp anti dandruff shampoo:
It has the following key Ingredients
Aqua, Sodium Laureth Sulphata, Cocamidopropyl Betaine,Dimethiconol(and) TEA-Codecylbenzenesulfonate, Glycerin, Ethelyne Glycol, Perfume, Climbazole, Menthol, Sodium Chloride, Methyl Paraben, Disodium ETDA, Propyl Paraben, Imidazolidinyl  etc.
Direction to use.
Take a little portion of the shampoo on your palm and apply into wet hair, massage scalp well with your fingers into a lather.
Wait for two minutes and finally rinse off thoroughly with normal clean water.
According to the product you must use daily for the best result. Avoid the eye area.
Packaging
It comes with a very smart packaging with flip-flop cover which is very hard to open which is a good thing.
You can easily mark the "Dandex' brand name in blue clour on the fron side of while Plastic bottle.
The bottle is very easy to carry. All information are available on the back side of the bottle.
You can see the image of leaves of mint on the front cover. It comes with 180ml of the bottle and small sachet also.
My Experience with Dandex pro scalp anti dandruff shampoo.
After using this I could feel the refresh and cool on my head. It also smells really nice.
This shampoo cleans the hair effectively and does not leave any residue or oiliness behind. It take less water to clean.
I do not shampoo every day so I will not recommend you to use this product every day. But you if have more dandruff then you may use every day.
The product is no doubt very effective good as an anti dandrugh. The consistency of the shampoo is very good and it's not too thick nor too thin and it lathers very well.
As you can see the product contains Propyl Paraben which is commonly used as preservatives in cosmetic products. One of the main Propyl Paraben dangers cited by dermatologists and skin care specialists is the chemical's ability to mimic estrogen in the human body, causing an over-abundance of this hormone.
Research has also found that  Propyl Paraben cause breast cancer. So you must be very careful while using this and must not use with small kids.
If you are having any kind of medical treatment or supervision then you must take the advice of your doctor before using this.
Pros of Dandex pro scalp anti dandruff shampoo.
Does get rid of dandruff with a single use.
Cleans hair very well.
Lathers well.
Clean refreshing scent.
Affordable and widely available.
Cons of Dandex pro scalp anti dandruff shampoo.
Not a Paraben free product.
 It may damage for hair in the long run if used as a regular shampoo.
Do we recommend the product?
I will suggest you if you are having the dandruff problem and having lots of itching problem then you must try this product which will be very good and effective. This is not a product for your everyday use. You may use this one in a week.
Coralldot rating: 3.5/5
MRP: Rs. 225/- (in Sri Lankan Rupees)
Will I repurchase this?
Definitely yes.
Final words
So I hope you have liked our topic today Dandex pro scalp anti dandruff shampoo review. Comment below your queries and suggestions. Follow us on facebook, twitter, Instagram, and Pinterest. This is Supriya M, Editor and blogger Coralldot says thank you. See you soon with a new topic. Bye & take care.