Hii everyone. Today's topic is Swiss Tempelle pollution defence face wash review. Read this complete article find out whats new in it or should you buy this?
Swiss Tempelle pollution defence face wash review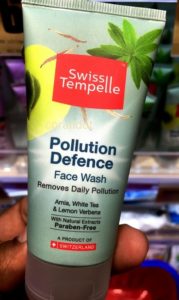 About the product: Swiss Tempelle Pollution Defence face wash is basically a combination of three things 1. Amla Extract 2. White Tea Extract 3. Lemon Verbena Amla. White tea contains antioxidants which are known to protect the skin from pollutants. Lemon Verbena is known for its soothing properties Indo-Swiss fusions of beauty ingredients and expertise. This face wash is also Paraben free.
Swiss Tempelle pollution defence face wash Key Ingredients
Aqua, Coco-Glucoside, Glycerin, Limonene, Perfume, Acrylates/C10-30 etc.
How to use?
First, rinse off your face with normal water. Take a small amount in your palm and massage onto your face in a circular motion and rinse off again with normal cool water. Do not use any warm water. You can use it twice a day. You must avoid the eye area of your face while massaging it into your face.
Packaging
It comes with a nontransparent tube which is completely covered with a beautiful background with a light green color with lemon verbena leaf and of course the red logo at the top which is quite impressive. As the product is made from natural things so no fancy pictures are there.
It comes in two sizes such as 50ml and 100 ml pack
Easy to carry
It has a very tight flip top cap so fewer possibilities of leakage
All necessary information is available at back side
Swiss Tempelle pollution defence face wash is the ideal product for a face cleanser that not only removes all the impurities from your face but also nourishes it and keeps it soft and supple.
Also, read:  Pond's white beauty anti-spot fairness cream with SPF 15 PA++ review
What I do I feel about swiss tempelle pollution defence face wash?
This a completely new to Indian market from a very well known brand and now available with all Future group stores across India. I personally love to experiment with new products but trust me this face wash impress me a lot. This will rescue your skin from the clutches of the sun, environmental pollution, and dust. If you are such a person who travels a lot in Bike in day or night time then you must try this. You can also use this if you are living in such a city where pollution is high. It's a Paraben free product which reduces the cause of cancer according to some studies in past.
It contains Lemon Verbena which is a European plant and It's a natural moisturizer or skin which makes the skin soft. It also has Amla as a source of Vitamin C and has anti-fungal properties.
Fragrance: 
You could definitely smell the Lemon Verbena and Amala inside this which is quite refreshing.
What I liked the most.
It's a Paraben free product
Nice, soft and feel refreshing after using this.
Contains natural ingredients like Amla and Lemon Verbena
Nice packaging and easy to carry.
Purifies Pores
Affordable
What I do not like about it.
Not easily available in nearby stores.
It has only two type of variants in terms of weight. The 50ml pack is a little small and it may finish quickly.
No transparent tube packaging.
More water to clean it
Do I recommend to buy this?
Definitely yes if you are traveling a lot in the open air and a oily skin. I will not recommend it for the people who have dry skin.
So I hope you have enjoyed reading Swiss Tempelle pollution defence face wash review and comment below your experience after using this and suggest people. Keep reading.